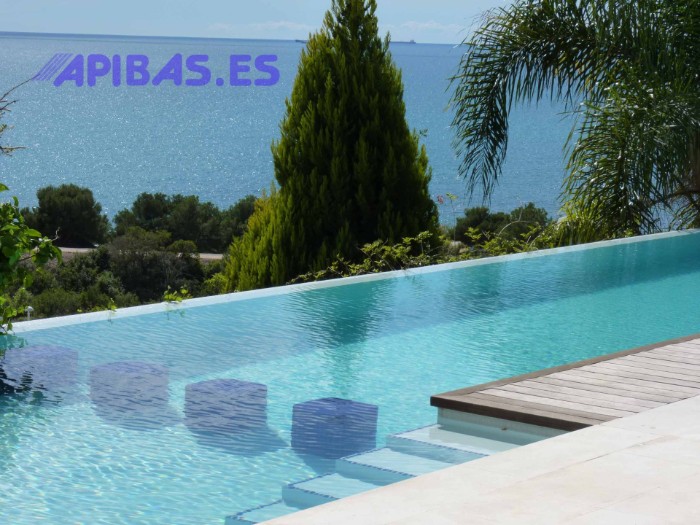 PISCINA
Parcela / Plot: 1.500 metros

Construido / Built: 1.000 metros

Habitac. / Bedroom: 6

Baños / Bath: 5

PRECIO: 2.500.000€
Venta de espectacular y vanguardista villa de máximo lujo y confort, vistas espectaculares al mar. En la Urbanización Torre Bellver de Oropesa. Parcela de 1.500 metros, 1.000 metros construidos. Gran Salón a dos niveles, comedor, biblioteca, cocina de gourmet, lavadero, 2 despensas, paellero-barbacoa, 6 dormitorios, 9 baños, 2 trasteros, 2 cuartos de máquina, 4 chimeneas, zona de juegos, jacuzzi interior y exterior, alarma, cámaras seguridad, ascensor, gran parking, múltiples terrazas panorámicas, zona exterior con estar, comedor, piscina y solárium, pérgola con cenador, jardines de diseño, orientación sur-este, vivienda de caseros independiente.
Es una de las residencias más exclusivas del mediterráneo español. Accesos inmejorables, a una hora en coche de Valencia y dos de Barcelona. En el entorno se sitúan toda clase de servicios, colegios, tiendas, hoteles de 5 estrellas, restaurantes, 3 campos de golf, 2 clubes náuticos y todo tipo de instalaciones deportivas y de ocio, así como playas de fina arena y acantilados.
Presencia en numerosos medios de comunicación especializados en arquitectura y diseño: Architectural Digest Le Piu´Belle case del Mondo nº 137 10/2007, Arquitectura y Diseño nº 40, Casa Viva nº 88, Magazine El Mundo nº 295 especial "Las mejores casas de España", Houses of the World 2004, House Design, etc. Además de ello ha servido como escenario para diferentes marcas publicitarias, tales como: Marie Claire, Fermax, Cerveza Alhambra,Muebles Ketal, Productos de limpieza Jonhson, etc... ANUNCIADA EN TV.
Sale villa dramatic and edgy-luxury and comfort, spectacular views of the sea. In Torre Bellver de Oropesa. Plot of 1.500m., 1.000m. built. Great Hall at two levels, dining room, library, gourmet kitchen, laundry room, 2 pantries, barbecue, 6 bedrooms, 9 bathrooms, 2 storerooms, 2 engine rooms, 4 fireplaces, playground, indoor and outdoor Jacuzzi, alarm, security cameras, elevator, ample parking, multiple panoramic terraces, outdoor area, dining room, sun terrace, landscaped garden, facing south-east, home to independent household.
It is one of the most exclusive homes in the Spanish Mediterranean. An hour's drive from Valencia and two from Barcelona. In the environment are placed all kinds of services, schools, shops, 5 star hotels, restaurants, 3 golf courses, 2 marinas and all types of sports and leisure facilities as well as sandy beaches and cliffs.
Presence in numerous media outlets specializing in architecture and design: Architectural Digest Le Piu'Belle case of Mondo Nº 137, Architecture and Design Nº 40, Casa Viva Nº 88, Magazine World n º 295 Special "The best houses in Spain, " Houses of the World 2004, House Design, etc.. In addition it has served as the setting for different advertising brands such as Marie Claire, Fermax, Cerveza Alhambra Furniture Ketal, Johnson Cleaners, etc... ADVERTISED ON TV.